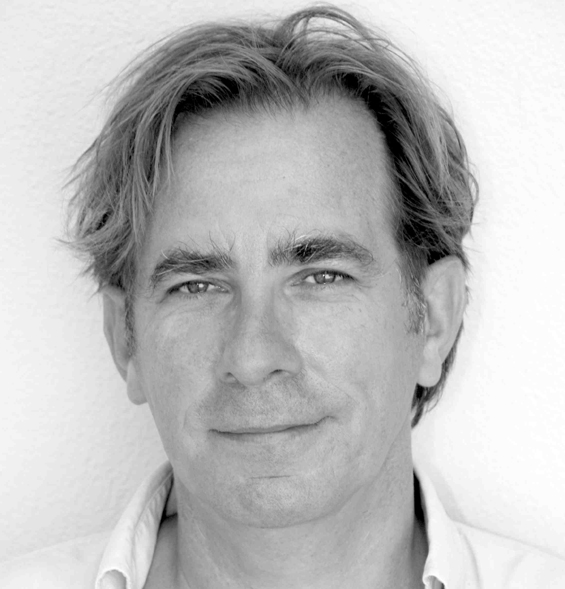 TEN QUESTIONS WITH DOUWE EISENGA
The body of work produced by Dutch composer Douwe Eisenga (b. 1961) since 2001 verges on staggering. A scan of his discography shows pieces for solo piano and saxophone quartet rubbing shoulders with chamber operas, concertos, small-group ensemble, and theatre works, and a great deal more is on the horizon. Certainly one of his more interesting projects is Simon Songs, a work-in-progress that upon completion will total 996—that's correct, 996—songs. Though you'll find Eisenga's releases in the classical section, he's no purist; qualitative distinctions between genres fall to the wayside, and it's common for elements of rock, pop, prog, baroque, jazz, and minimalism to find their way into his melodious compositions. We had an opportunity to speak with Eisenga recently about his abundant creative energy, formative background, and musical approach, among other things.
1. The bio at your site focuses on the body of work you've produced and includes only a modicum of detail about your background. Could you bring that into clearer focus by telling us about where you grew up, your professional and education background, and where you're living now?
I was born and raised in Apeldoorn, a small town in the Netherlands. Perhaps my dream of being composer started when listening to Tubular Bells from Mike Oldfield, all those years back in 1973. Although I did have organ and theory lessons for a few years, I really had no idea how to realize this dream, so I started to study sociology at the age of seventeen. After a few years I decided that music was too important and became full-time musician, playing in bands, buying synths and stuff, and writing music for theatre, dance, and film productions.
Again after a few years I realized I needed a proper education and needed to study composition. So I did, rather late, in the six years following my twenty-seventh birthday. After finishing this study, it took me quite a while to discover my own musical path. My pop-music mind was heavily brainwashed with all kind of avant-garde techniques and, to be honest, I wasn't sure what or how to compose anymore. At last I found out that this mixture of pop and modern techniques wasn't my problem but my strength. I love the groove and tonality of rock and pop, and I love playing with musical structures, series, rhythmical games, etc.
2. You've produced an amazing amount of work since 2001. How have you managed to be so incredibly prolific?
It was indeed round the time of the millennium that I knew what to do. And yes, things went—after this very long incubation time—very quickly with all sorts of commissions: for a requiem, a chamber-opera, a piano concerto, theatre-stuff, etc.
I don't know, though, if I'm more prolific than the average. All these works are written part-time, as I always had side-jobs. In this time I also started a professional recording studio and revamped a 372-seat concert venue for which I was manager for the last eight years. At the end of last year I decided to focus more on composing again. The list on my site might look prolific; however, there's a lot more on the shelves. This isn't an answer to your question. The honest answer is: I don't know!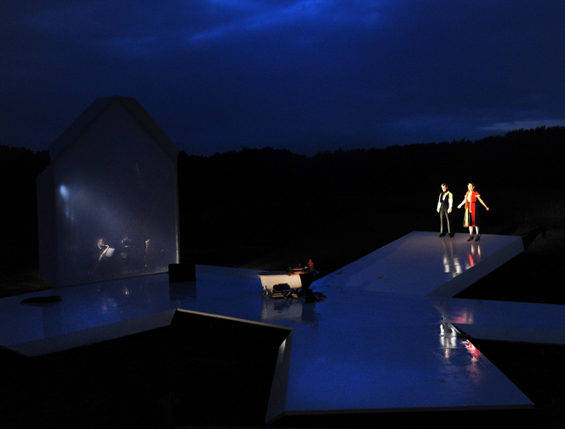 Photo image of the theatre production of The Writer, his Wife, her Mistress presented at the Zeeland Nazomer Festival
3. When I listen to your music, Michael Nyman and Louis Andriessen sometimes come to mind as kindred spirits to yours. Were you influenced by them, and are there other artists, musical and otherwise, who have had a strong influence on you? And has living in Holland influenced your music?
The maybe surprising answer is: I hardly listened to the music of these two men, although I love the music of Nyman that is co-written with Purcell; Memorial, for example, is a great piece. That doesn't mean that there are no influences. As I said, as young man I was addicted to the first four albums of Oldfield and was into Pink Floyd in the '70s and Peter Gabriel in the '80s.
During my music studies I came across the music of another Dutch composer, Ton de Leeuw. His ideas about cyclic pitch-length structures had a profound impact on me. I guess I share some musical DNA with Philip Glass also. What I learned from his music is that voice-leading is extremely important.
4. I'm guessing that you're very well known in Holland, but I'm also guessing that it's not easy to achieve a similar level of visibility in North America. Is establishing a high profile outside of Holland something you're focusing on and how are you going about doing so?
A few weeks ago I read that on sites like Beatport 20,000 new tracks are uploaded per week. It's primarily dance music and DJ stuff, but it does indicate the overwhelming amount of music being produced. It isn't easy to get your voice heard abroad, but things are changing slowly. In August there was a ballet premiere set to my music in NYC, choreographed by Claudia Schreier and danced by members of the New York City Ballet and the American Ballet Theatre. In January the American record label Belarca released the CD Rhythm of Silence featuring Erika Tazawa playing my "Theme from Wiek." In February there was a new ballet premiere in New York, again by Claudia, and in April there's a gig with the American premiere of my piece Motion in Atlanta.
Last summer I launched a site with a new out-of-the-box kind of distribution model: Give Music, Get Music. Visitors are rewarded with exclusive music if they offer some other music to friends. Plus there's a free album for everyone! Ideas like these help my visibility as composer grow.
5. I noticed that you included releases by Sparks and Mike Oldfield on the 'My Musical Favourites' page at your site. In a similar spirit, your 'Maximal Music,' as you call it, doesn't discriminate between classical, pop, minimalism, and other genres. To what do you attribute this open-minded sensibility?
To be precise, there's a statement on my homepage that my music is a mix of minimal, rock, and baroque. What these genres do have in common is rhythm, a most-of-the-time ongoing stream of eighth notes (quavers). In baroque music this is called (with a German word) Fortspinnung.
I like rhythm and like repetition. I like going around in musical circles, which I suppose belongs to an anti-Romantic attitude. On the whole I hardly listen to the music of the nineteenth century with all those breathless composers chasing new horizons.
Besides that, I think that this musical open-mindedness started with my generation. We grew up with rock and pop, and with one click of the mouse we can listen to every obscure genre in the world. We love the sound of a distorted guitar as much as we love the sound of a cello. We don't distinguish between classical or jazz or pop. We only differentiate between good music and bad music, and jump happily from Bach to Sigur Ros.
6. Your works have been performed in solo, group, and orchestral contexts, and you've composed a wide range of works, among them solo pieces, theatre pieces, and a requiem. Having composed so many different kinds of works, what goals remain?
Oh, there's still an awful lot to do! I've been asked to write a full evening piece for sax quartet, a short piece for two pianos quatre mains, a piece for three choirs and organ, a piece for the strange combination of cello octet and sax quartet. Besides that I've got sketches for a lot of free projects: a symphony, a concept album based upon the live of Wolfgang Pauli, a piece called Danza Concertante. I want to complete the Chant series. Three new albums are ready to be released, with plans for more to come. And yes, there are the Simon Songs, piano pieces based upon old Dutch folk tunes. I've got a PDF with 996 of them. I just finished the twentieth (and released the first sixteen), so I've still got 976 to go!
7. Your music, being so unfailingly melodic and harmonious, does not appear to have been influenced by the twelve-tone method associated with Schoenberg and is conspicuously lacking in dissonance. Did you purposefully shy away from letting that tradition affect your musical approach?
The joke is, there's a lot of contemporary technique in my music. In Growing Worm, a twelve-tone row is fighting with a I-IV-V chord progression, and the fabric of voices in La Musica del Giorno is very dissonant. Even in the last part of the Piano Concerto I play games with twelve tones. They are my little secrets that hardly anyone will notice because in all those pieces the groove and the underlying harmony are so crystal clear.
So I don't think I shy away from the recent past. Every composer is a criminal; he or she steals all the time. It's the only way music develops in history. When you stop worrying about being original, that's when you discover your own origin, your own musical source, your own signature.
8. Is there one work of yours that you are most proud (and why)?
Perhaps every composer is desperately trying to write the ultimate composition. I still have this dream (I remember having this dream when I was thirteen or so and hearing some snippets of stunning music) to write something that has everything in it. It's about a combination of groove, ongoing movement, and sound. The Flood, Requiem comes very close, and so does Music for Wiek.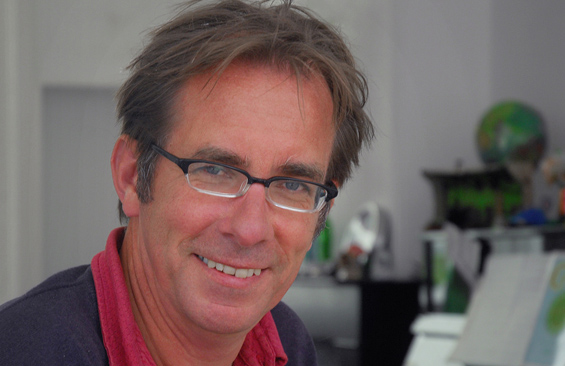 9. Name a piece of music (or two) you wish you'd written.
"Simon Song 995" and "Simon Song 996"!
10. What's the most memorable concert you attended?
When I was fifteen or sixteen I went on a date with this gorgeous girl next door to attend a concert of the Dutch composer and guitarist Harry Sacksioni. An hour before our date she informed me she wanted to go alone because she had a crush on this Sacksioni guy and wanted to try to meet him. So there I was, attending this concert alone, casting hating glances all the time at this stupid, ugly guitarist. It was my most emotional concert ever.
web site: DOUWE EISENGA
March 2016