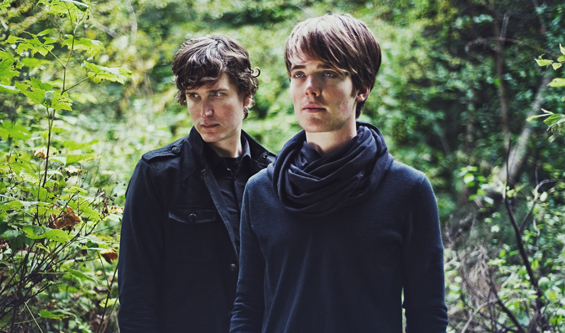 photo: Bob Hansen
TEN QUESTIONS WITH ORCAS (BENOIT PIOULARD AND RAFAEL ANTON IRISARRI)
It's not often that two artists associated with the electronic genre pool their talents, especially when the music they produce in their established guises is so distinctive. But that's exactly what Thomas Meluch (aka Benoît Pioulard) and Rafael Anton Irisarri (aka The Sight Below) have done in uniting under the Orcas name. The move has proven to be a fortuitous one as it has enabled the strengths of each to be permanently captured on a marvelous album distinguished by haunting vocal songcraft and instrumental invention (the textura review is here). The two bring to the project no shortage of previous experience, with their work having appeared previously on kranky, Touch, Miasmah, Room40, and Ghostly International, but the album's release on Morr Music makes some perfect kind of sense, given the electronic pop song-oriented focus of the label in its most recent incarnation. We were delighted to be able to discuss the group project and album in detail during a recent interview with the Orcas duo.
1. Forgive me for asking the obvious, but what made the two of you decide on the Orcas name?
Benoît Pioulard: Orcas are (to us at least) a really good emblem of the American Pacific Northwest, which is where we made the album; they're methodical, majestic-looking creatures and at times can even be violent. They are representative of the ocean's expanse and evocative of a quiet but powerful nature. We wanted to conjure an imagery of shadows and depths. We aimed for a certain fluidity in the sound of the album while using disparate elements like pop hooks and spatial ambience (chiaroscuro mosaic if you even want to call it that) so we find that balance to be quite fitting to the name.
2. With all due respect, aside from the fact that you've both issued albums on the same labels, the two of you don't stylistically seem to be the most obvious match-up —it's not like how one might naturally see two techno producers hooking up, so to speak, as a result of appearing repeatedly at the same festivals—so I'm wondering how the collaboration originated?
BP: Funny you should say that—Raf was the co-curator for Seattle's annual Decibel Festival (an annual electronic and digital arts weekend) when we first met in late 2009. Playing at such a major event was a somewhat intimidating thing for me since I'd only done one short tour at that time, but following the show he and I kept in touch and began experimenting with guitar setups at his studio a few months later, which eventually led to adding vocals and aiming for more 'proper' compositions.
Rafael Anton Irisarri: And I've collaborated in the past with numerous other artists, ranging across a wide spectrum of styles, from Tiny Vipers and Simon Scott to even Fennesz (live) & Biosphere (remixing), so I'm fairly used to tackling different elements and transforming them into cohesive form.
3. Both of you have generally worked alone in the past, so how much of an adjustment did you have to make in the collaborative project?
RAI: Working with Tom is very harmonious, as we have very similar thoughts in regards to aesthetics. Once that particular area is in sync, everything else just flows very easily. I believe part of the ease comes from mutual respect and admiration for each of our previous independent works. I'm a fan of Benoît Pioulard, and Tom's an amazing singer, songwriter, multi-instrumentalist, and a genuinely fun person to hang out with, have a drink and discuss films, books, and music.
BP: I agree; most of my collaborations in the past—few though they are—have happened over e-mail and Dropbox, but once we set ourselves to developing this project beyond our initial improvisations it went incredibly smoothly. Like Rafael said, respect is key, but so is open-mindedness and patience. There was no clashing of egos or anything like that.
4. Did you have any precedents in mind as model references or starting points for the style of music you wanted to pursue in Orcas or did things just naturally come into focus over time as you developed the material?
RAI: You know, there was no discussion that went, "Okay, we are going to sound like such-and-so." We began with nothing particular in mind once we decided to collaborate, just Tom playing guitar while I manipulated the amplifier in real-time, followed by various studio treatments. Eventually some nebulous chord structures emerged, which led to song outlines, which led to lyrics, and so on and so forth. It felt very organic and—while we have different aesthetics at work in our individual music—there's a core sensibility in both of us that led to the album sounding the way it does.
BP: Some of the lyrics that ended up on the Orcas LP were originally set aside or intended for future Benoît songs, but at a certain point while working on pieces with Rafael it made more sense to incorporate them into this project. "Arrow Drawn," for example, was written while I was on tour by myself—and I still often do a live solo version of it that's very different from the Orcas album—but most other songs were written specifically for our collaboration, since they arose in the process of experimenting with our guitars and setups, etc.
5. How did you create the material? Did you physically get together and work out the songs or was it all done by sending files back and forth?
RAI: We recorded in a few studios in Seattle, including my home studio. For the most part, we traded instrument duties, with each other complementing areas that the other lacked. I did a lot of studio treatments and processing as Tom played different instruments. For example, the 'trumpet' sound you hear at the beginning of "Pallor Cedes" is Tom playing a glockenspiel with a cello bow while I ran it thru a Max For Live patch in my notebook computer.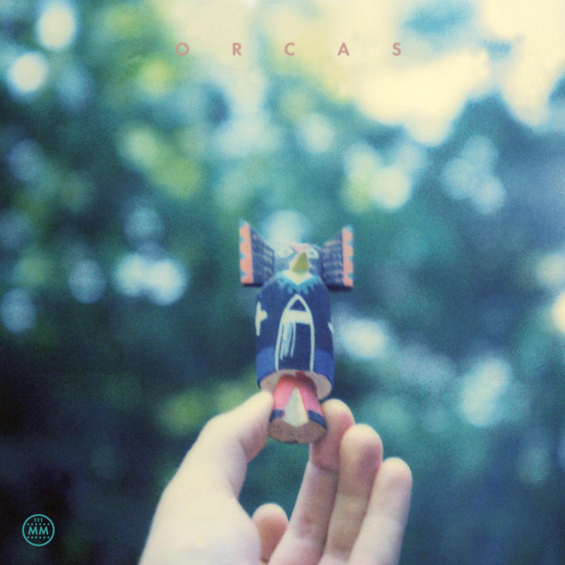 6. Were there any production- or instrument-related techniques that you incorporated that were novel and unlike what you'd done before?
BP: For my part, the production of this record at times was like a medieval pleb (me) watching a sorcerer (Rafael) conjuring spirits. For my solo recordings I use GarageBand, which is just about the simplest software you can find, while Raf uses a host of programs that allow him to endlessly manipulate, re-orient, stretch and mangle any given sound. It was amazing and—while I still don't have a full understanding of how to operate all those things—it was pretty nice to be working on something and say, "What if we make that note sound like it was thrown into a woodchipper?" and then watch a few swift clicks of the mouse and hear it happen.
7. What prompted you to include the cover of Broadcast's "Until Then"?
RAI: I heard news of Trish Keenan's passing the day before we recorded it. Tom and I were scheduled to work on Orcas that day, and we were both so really saddened by such a sudden death, we decided to scrap our songwriting plans for the day and just paid tribute to Trish. We originally posted it to share with our listeners and honour Trish's influence on both of our music. When it became clear to us that Morr Music was going to release our first album on vinyl, I decided to include our version, just 'cause I'm a sucker for vinyl and wanted to listen to the version we did on a turntable. I know it sounds pretty arbitrary, but it's nice to have an artifact you can hold in your hands and listen to; to me vinyl is the best.
8. Thomas, your vocal style is, of course, very much a readily identifiably signature sound. Did you do all of the singing, or were the vocals split between the two of you? And were you at all concerned that with your vocal sound being so distinctive it would make it difficult to establish a clear separation between the Benoît Pioulard and Orcas projects?
BP: I did all the singing, and wrote the lyrics as well. To me, my voice sounds different in this context because it's been recorded differently and mixed in by someone with total objectivity. Like, at first, I was rather uncomfortable having just a single vocal take going through a crystal-clear condenser mic, since I use a pretty standard MOR microphone for recording my own voice and usually layer it and spread it across the stereo field for a bit richer of an effect. So for these songs I think it sounds quite different even though it may still be recognizable as the same voice—it just took a while to be ok with such clarity, hearing all the rasp and waver that I usually try to mask or downplay. But there's something quite liberating in that.
9. Is Orcas a one-off kind of project or are you planning to produce another album? And are there plans to tour in support of the album?
BP: We keep in quite close contact and have been sending files back and forth ever since completing the first LP, so we're already creating demos of new pieces. We don't yet have a particular goal or framework in mind, but for as well as we work together, there's no reason to let things rest anytime soon.
RAI: There will be other albums (hopefully,) well, that is, if people buy our first album to begin with (and not just download it off torrent and illegal sites). It's very hard to spend time and energy making the album sound the best you can in a recording studio (which frankly costs a lot of money too), only to find it online on some blog, shared as very low quality MP3s and completely devalued. That is quite heartbreaking, so if you like our music, and would like to hear what we do next time around, well, support what we do by buying our music legally. Support any artists you like as a matter of fact, and go buy their music. Don't assume we are all rich and famous—we are not even remotely close!
10. Both of you obviously have many other irons in your respective fires. What else can we expect from you, whether live or on record, in the coming days?
RAI: At the moment I', prepping new live sets for RAI, The Sight Below and of course, Orcas. I've got shows in Europe in April May and June, so there's lots of work ahead!
BP: I'm living on the southeastern coast of the UK right now, and have thankfully had lots of space to think and work on new things—some are specifically for Orcas, some are just for the sake of experimenting and seeing what happens. This place is very inspiring, though, and I'm keeping myself focused on the strange and wonderful state of being in a foreign place with an all-too-familiar brain.
ORCAS
RAFAEL ANTON IRISARRI
BENOIT PIOULARD
April 2012